History - Bearded Collies 1980s & 1990s
| | |
| --- | --- |
| In 1983 I imported my third puppy whose sire was GB CH Pepperland Lyric John At Potterdale "Winston". This puppy was INT S N DK CH Potterdale Cassius who was born on the 12th of February. Cassius' was out of GB CH Blumberg Hadriana At Potterdale "Heidi", who was a wonderful bitch. His littermates were GB CH Potterdale Ptolemy and CAN AM CH Potterdale Paris. Cassius was a big dog with eye-catching markings, which he carried on to his offspring. Especially to his very successful Best In Show winning daughter Multi ch Farmarens Evening Eureka "Ella". | INT S N DK U CH Potterdale Cassius |

INT NORD U CH
Osmart Bonnie Farmaren Boy

Later during 1983 November 7th GB CH Osmart Black N Bonnie "Bonnie" gave birth to a litter out of GB CH Charncroft Cavalcade "Kerry". I saw the possibility to strengthen my breeding with bloodlines, which I had been working on for a long time. Bonnie was a bitch of lovely type and her movement made me shiver.

A dog from this litter INT NORD U CH Osmart Bonnie Farmaren Boy "Gordon" was the newcomer. He was my fourth dog from kennel Osmart. Gordon was the opposite compared to Cassius when talking about markings, but that did not hinder him from becoming the top winning beardie in Sweden in 1987.




S N UCH Potterdale Selection

A dog that lived in England reminded me of Gordon regarding his markings. He was GB AM CAN CH Samarra Standing Ovation "Boysie". He started his show success in early days and left England to stay in USA and Canada, which resulted in titles from both countries. Before he left England he sired GB CH Potterdale Persuasion "Polly", a sister to Crufts Best In Show winner, GB CH Potterdale Classic At Moonhill. On the 2nd of June 1988 our third Potterdale dog was born, Selection "James".

One of James offspring is our INT S N DK FIN CH Farmarens Starlight X-press "Zelma" who was the most winning bitch in 1995. Zelma's grandfather is Gordon. This is a combination of bloodlines, which proved to be very successful. James sister S CH Potterdale Fascination was imported to Sweden by Christel Smedberg from kennel Magicbrook. GB CH Potterdale Premonition and GB CH Potterdale Passion was from this same litter.
Another beardie who had influence in our breeding program was INT NORD CH Farmarens Black Nightcap Nickolaij who was born on the first of May in 1985.

Nickolaij was the only dog in this litter. He had both blue and brown sisters. Three sisters became Swedish champions. These were Farmarens Brown No No Nanette "Wendy" owned by Lena Gustavsson kennel Skarnbro, Farmarens Blue Nadja Nobless "Nadja" owned by Britt Marie Engman kennel Fables, Farmarens Brown Nicola Nougata "Fanny" owned by Ann-Catherine Lyckerud. Fanny was sold as a pet but her owner got interested in breeding so this bitch became the foundation bitch at kennel Quarry. That's how things might change!

The dame of this successful litter was INT NORD CH Cregagh Kerry Dancer At Sunkap. Kerry was born on the 17th of April 1982 in Ireland but she was bought by Eleanor and Kevin Young at kennel Sunkap in England.




INT NORD U CH  Cregagh Kerry Dancer At Sunkap "Kerry

"
Thanks to the help of these people, Kerry was mated to a youngster called GB CH Wellknowe Crofter before she was sent to Sweden. My choice of sire proved to be very good for my future breeding. Nickolaij was the most winning dog in 1988 and 1991 and he was very successful under judges like Brenda White, Sue O´Brien, Mike and Janet Lewis to mention a few. He can still be found in my lines, which I am very happy for. Kerry carried Kimrand and Orora lines which complemented my breeding program very well.
Ulrica surrounded by six international champions, all of them owned by us.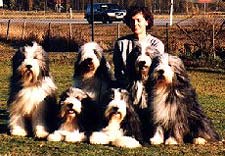 Sitting from the left INT S N U CH Farmarens Tudor Tristan, INT S N DK U CH Potterdale Cassius,
INT S N U CH Farmarens Black Raggedy Apache, INT NORD U CH Osmart Bonnie Farmaren Boy.
Laying down from the left INTNORD U CH Farmarens Black Nightcap Nickolaij och sist men absolut inte minst härliga
INT S N U CH Farmarens Zinzano Zam - the first Swedish born Best In Show winner at a show arranged by the Swedish kennel club.
In the summer 1992 it was once again time for Sigvard and me to travel to England on holiday. We should take home our S CH Sunkap Trademark who was born on the 8th of October in 1991. Ted is a son of GB CH Potterdale Philanderer "Bill". In his mothers pedigree you find both GB CH Sunkap Adam and GB CH Sunkap Nicolette. Ted was used for stud and can be found in our pedigrees. He has a lovely temperament and has been very dominant and inherited both lovely head and expression.

Two of his most successful offspring are the BIS winner INT S N DK FIN CH Farmarens Go My Hero "Hamish" and INT S N DK FIN CH Farmarens Dumbarton Dhu "Douglas" who has a BIS placement.




S U CH Sunkap Trademark



S N U CH Breaksea Black Pudding

We also visited some kennels and shows during our holiday trip. We wanted to visit Wales. Alan and Gill Burfitt, kennel Breaksea, lives in Wales so we arranged a visit. Their beardies were very nice, kind and positive. We felt exactly like at home. In the middle of all the other dogs was a four month old puppy. He was a black dog and loved to sleep by the fireplace. His name was S N CH Breaksea Black Pudding "Booster".

When we saw his pedigree we realised that he had our INT S N DK CH Potterdale Cassius sister Potterdale Roxana At Breaksea in the pedigree, she was the grandmother and distantly related to my INT NORD CH Osmart Black Berry. The pedigree is very interesting and useful because it is a mix of old and new lines. We both got very interested. I then got an idea. I looked at Sigvard, and he nod and smiled.
We asked if Booster would be for sale. Gill and Alan had a long talk and told us that it could perhaps be arranged. They were both a little bit unsure whether they want to sell him because his sire is Breaksea Alchemist. After Gill and Alan had made their decision there was not much time to arrange the trip back to Sweden. A vet was contacted and all the necessary documents were signed. Booster was collected later.
Booster was sparingly used for stud. He has one champion son Beardmarked´s Celestial Charmer "Charlie" and many young cc-winners. His last offspring was born in 2001 so he will surely have more winners.
To pick a puppy from a litter is something we breeders are privileged to. I wanted so much a puppy out of GB CH Potterdale Conclusion "Charlie" but I wanted to choose the puppy myself.

In 1994 I contacted Charlies owner Liz Sharkey to ask her if my dream could come true. There was a lot of preparation for the import of his sperm. The sperm was sent in a blue vacuum bottle. When looking back at all the effort we made and what we got I would not hesitate to do it again. The bitch that would become the mother of this litter was decided long in advance.

It couldn't be anyone else than INT S N CH NV-94 Farmarens Yabba-Dabba-Dii "Diddi". She had already proven to be an excellent mother. She is from a strong bitch line, which is a descendant of Osmart Farmarens Black Lady. I was not satisfied enough with that bitch as a brood bitch when I evaluated her own puppies. Such things can and will happen!!


INT S N U CH NV-94
Farmarens Yabba-Dabba-Dii "Diddi"
My plan was to keep a bitch and a dog. When she started giving birth to the puppies I got worried because there were only dog puppies and I wanted a bitch. Before I totally lost my hope she gave birth to a little, weak bitch. But, but…as this little bitch matured she turned out to become something really nice. This bitch is INT S N DK FIN CH SV-00 Farmarens Happy Returns"Mollie" who was the top winning beardie in 1997. I also wanted to have a dog, but so did also Miss Camilla Karlsson from kennel Fjällglimtens. Camilla had, in those days, many brown bitches and was not interested in a brown dog. Camilla chose S CH Farmarens Hillside Hickory "Avalon" and I kept INT S N DK FIN CH KBHV-98 NV-99 NORDV-99 FINV-99 Farmarens High Commission "Rufus". I want to say a BIG THANK YOU to Charlie, Phil and Liz Sharkey who made all this possible.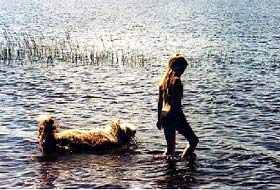 Multi ch Farmarens High Commission "Rufus"
attending a summer camp with my grand child Mathilda.
Guess if they had fun!!
50 years later I am grateful for my lucky star which made me chose this breed. A big part of our kennels success has been achieved thanks to fantastic puppy buyers who have shown their dogs with such wonderful talent. This has resulted in 127 champions in obedience, agility and shows. I have also bred 3 Tibetan terrier, 21 Old English Sheepdog and 9 Manchester Terrier champions. The total amount of champions under the prefix Farmarens is 160 and the number will hopefully increase in the future. I am very proud of all of you and I am so pleased when I hear how much pleasure dogs bring into your life. Despite all the winning dogs are first of all dearly loving family members.
| | |
| --- | --- |
| My first two beardies together with our Tibetan terriers in 1967. | Sigvard and me together with our first beardie litter in 1967. |
I was awarded the Hamilton prize in 1985, which is the highest prize, which the Swedish Kennel club give to breeders. The Swedish Bearded Collie club awarded me the breeder medal in 1994.