History - Bearded Collies 1960s & 1970s
In the beginning of the sixties I owned an Old English Sheepdog. In my and my husband's opinion this was an adorable breed. Our children were small and we wanted another breed but the only question was which breed would that be? That was the big question!

I got some information through Mrs Ulla Segerström about a book called Dog World's Annual which had a lot of English kennel ads in it. This book was available in Stockholm at Fritzes bookstore. I ordered the book and waited anxiously for it to arrive by post.

The annual really fulfilled my dreams. It was full of ads and there were even some about Bearded collies.

Bearded collies reminded us of OES but they were smaller in size. My English was not very good but I wrote five letters to different breeders. I got three replies from Mrs Gertrude Wheeler kennel Cannamore, Mrs Jenny Osborne kennel Osmart and Mrs Janet Martinau kennel Jayemji.


NORD U CH Jayemji Clunie 4 CACIB
Clunie came to Sweden on
April the 25th in 1965 at 1.45 pm.
Foto: Andreas
With the help of our OES friend Mr Caj Håkansson from kennel Bahlambs, our first beardie arrived in 1965. Clunie was chosen by Caj who stayed in England at that time, working as a kennel boy at the legendary Mr Joe Braddon kennel Ide.
Cluniewas a daughter of the famous GB CH Wishanger Cairnbahn and Merry Maid Of Willowmead. September the 3rd of 1967 she gave birth to the first beardie litter under the prefix Farmarens. The sire of this litter was a Swedish born dog called Happy Dogs Broad Day. He was a son of S CH Danielle. Clunie should of course have her own "husband" at home.
At the end of year 1966 Bracken Boy From Osmart arrived. His sire was Westernisles Brad Of Bothkennar and dam was Blue Belle Of Bothkennar. Bracken was a dog of excellent type. Unfortunately he only decided to sire his dear Clunie. No other bitch meant anything to him. Together they produced many champions for example INT NORD CH Farmarens Molli. Bracken passed a mental behaviour test.





Happy Dogs Broad Day "Lufsen"
Fotographed in Norrköping 30/9-67 He won CC, BOB and BIG-4.Lufsen is the sire of Farmarens first litter which was born 3/9-67.

INT NORD U CH Farmarens Molli
Photo: Håkan Jansson



Blue Belle Of Bothkennar


INT NORD U CH Bracken Boy From Osmart
Photo: Per Löfgren
Nothing would ever be the same after Clunies and Brackens arrival into our life. The breed was very small in Sweden in those days and the only way for me to get a beardie was to import one from England. In 1970 I re-established my contact with Mrs Jenny Osborne and her dogs during our summer holiday in England. We were privileged to see dogs like GB CH Blue Bonnie Of Bothkennar, GB CH Bravo Of Bothkennar and GB CH Osmart Bonnie Blue Braid.
One of my first memories of Braid is when he sits down in his chair with a lot of dignity. He sat down comfortably and laid back, looked at the others with his head held high. No wonder his family called him Sir! The dogs were as wonderful as beardies can be. I got very impressed with what I saw. I couldn't think, even in my wildest dreams that this breed would give me and my family so much pleasure.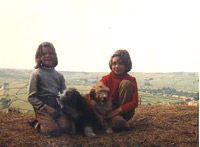 Our daughters Ulrica and Charlott at kennel Tambora in 1970.
Both our girls are nowadays judging beardies amongst many other breeds.
Photo: Sigvard Olsson
I was so happy when I got the chance to import INT NORD CH Osmart Black Berry who was born 690517. Berry was Braids half brother through their father GB CH Bravo Of Bothkennar.
Berry was black as the night and he had a wonderful pigmentation and the darkest eyes. Before he moved to Sweden he became the sire to GB CH Osmart Black Barnacle Of Penhallow owned by Mr Joe Pickford. Berry had an approved surveillance and mental test from 1973. He was also the sire of the first Swedish beardie who became an obedience champion. Her name was S L CH Farmarens Black Xhibit.
"Bitte" was owned by Mrs Ulla Hansen but she always competed or was shown by her husband Terje. Bitte won one of her two CC:s under judge Mrs Jenny Osborne.

INT NORD U CH Osmart Black Berry
Photo: Håkan Jansson


S L CH Farmarens Black Xhibit  "Bitte"

In the beginning of the 70s GB CH Sunbree´s Magic Moment Of Willowmead "Duncan" was very successful in England. When Mrs Jenny Osborne mated her Braid daughter GB CH Nigella Black Tango I saw my chance to buy a bitch. This time I chose Osmart Farmaren Black Lady. Lady did not become the kind of brood bitch that I expected. Not when evaluating her offspring.



 Foto: Håkan Jansson

In Ulrica's arms Osmart Farmaren Black Lady and Farmarens Bilissima.
From left to right: CH Osmart Black Berry, CH Jarlabankes Blue Belle, CH Tamboras Penny Brown.
Taken 1974.
In 1973 when Sigvard and I visited Crufts we got the chance to see what England had at the time. Anyhow, it was not at Crufts where we found our new bitch. When we sat and had dinner at Mrs Jenny Osbornes, Jenny told us that there was a litter at kennel Tambora. Jenny started to arrange a meeting for us and the next day we visited this kennel. The puppies were in the same house as their sheep. There were three brown bitch puppies which were seven months old. Their parents were the legendary GB CH Edenborough Blue Bracken "Percy" and GB CH Edelweiss Of Tambora.
One of the bitches was sold to Denmark to kennel Daisy Belle. It was not decided on which puppy would go to Denmark. The bitch with the most white markings caught my eye and the same evening INT NORD CH Tamboras Penny Brown came with us to Mrs Jenny Osbornes. That day I bought my first brown bitch. Penny stayed at Jennie's house for almost a year before she came to Sweden. She had been mated in England with my big favourite dog GB CH Osmart Bonnie Blue Braid. From this litter I got my first blue puppy INT NORD CH Farmarens Emily Blue. She won for example BOB in 1977 at a club show in Sala. The judge was Mr Carl Johan Adlercreutz. She was handled by our 14 year old daughter Ulrica. In 1982 Emily was the top winning beardie in Sweden. "Emlan semlan" as we called her was wonderful both as a dog and a member of our family. Her movement was something that I still miss and which I would hope to see more often in beardies. One of her sons was INT NORD CH S L CH Farmarens Blue Amazing Angus. He had it both; "brain and beauty". He was owned by Mr Björn Lander.

INT NORD U CH Tamboras Penny Brown "Penny"
with our daughter Charlott in 1974.

INT NORD U CH Farmarens Emily Blue
Winning BIS 1977, handler our 14 year old Ulrica.
| | |
| --- | --- |
| | In 1974 we imported NORD U CH Rossbourne Calum At Deanfield called "Ross". He was born 730216. He was my favourite Osmart Bonnie Blue Braid's grandchild and his grandmother was Blue Belle Of Bothkennar. He was related to my first dog INT NORD U CH Bracken Boy From Osmart. Ross was a dog of excellent type who unfortunately only had a few litters. This was because he had cancer and died all too young. He had a very successful sister, in England called GB CH Rossbourne Blue Heidi. |
Sigvard was fascinated by Miss Maureen Readers charming bitch GB CH Dutch Bonnet Of Willowmead called "Mieke". She was another Braid daughter who had gained plenty of success. One of the reasons why Sigvard paid attention to this bitch was that she was always shown in movement by Jennys husband Mr Ken Osborne. Maureen had difficulties in gaiting her so she gave this job to Ken. We followed her career towards the championship and we were very pleased when Maureen told us that Mieke was to be mated to a youngster called GB CH Pepperland Lyric John At Potterdale. The whole world would come to know this dog who was called Winston. He was the founder of kennel Potterdale. We reserved a bitch puppy from this litter. When Mike and Janet Lewis came to pick their puppy they decided to take "our" bitch as the stud puppy. This bitch was called Tally, GB CH Tamevalley Easter Song Of Potterdale. I did not want the bitch who was second best so I decided to choose the most promising dog. This is something I never regretted.
INT NORD U CH Tamevalley Easter Hymn "John" borned Januart 25, 1978 came into our life. He had a wonderful temperament and he did the mental test without any problems. That was in 1980. John gained many wins both for Nordic and English breed specialists.

John produced many champion offspring and he can be found in many top winning Farmarens beardies pedigrees. He played an important role in my breeding program although he got sterile very early. Because of this I was very happy when I could collect his full sister INT NORD U CH Tamevalley Highland Melody who was born 810205.


Tamevalley Easter Hymn "John" with his mum Mieke on his way to his new home.

Melody was a wonderful, intelligent bitch but not as glamorous as her elder brother. Despite of that she gained her international title in a very short period of time. She was very committed to being a mother. One of Melody´s offspring is the great agility dog SAg CH Farmarens Oh Susie "Skrållan".
| | |
| --- | --- |
| INT NORD U CH Tamevalley Highland Melody "Melody" | SAg CH Farmarens Oh Susie "Skrållan" |
In 1977 Mrs Jenny Osborne told me that Braid was going to be retired. One of the last bitches he sired was the sweet GB CH Mignonette Of Willowmead At Orora "Miggy". She was the top winning beardie in England both in 1975 and 1976. Miggy was a GB CH Wishanger Cairnbhan daughter and she was the half sister to my first beardie NORD CH Jayemji Clunie. I asked Miggy's owner Mrs Bryony Trafford if I could buy a bitch puppy from this litter, she said that it would be fine. On the 26th of August 1977 our black S CH Orora´s Hope "Bunty" and her very successful brother GB CH Orora´s Frank were born.
| | |
| --- | --- |
| S U CH Orora's Hope "Bunty" | Ulrica together with GB CH Osmart Bonnie Blue Braid 13 years old. The year was 1987 and we were picking up his daughter Ch Orora's Hope. |
In connection to our holiday to England in 1978 we collected Bunty and John (Tamevalley Easter Hymn). We mated both of them, we did not gain the same success as in England when Buntys brother GB CH Ororas Frank was mated to Johns sister GB CH Tamevalley Easter Song Of Potterdale. The legendary GB CH Potterdale Classic Of Moonhill was born.
Another bitch which we were very impressed with was GB CH Edenborough Amazing Grace "Gina". She was a daughter of GB CH Edenborough Blue Bracken and Broadholme Christina. This was a combination that produced a lot of champions for instance GB CH Edenborough Sweet Lady, GB CH Edenborough Kara Kara Of Josanda and GB AM CAN CH Edenborough Grey Shadow.
Miss Shirley Holmes who was the owner and breeder of Gina wanted to mate her to GB CH Ororas Blue Basil. Unfortunately he got problems with the fertility so instead she used a son of him called, Ororas Robin Goodfellow.
September 17 1978 INT NORD U CH Edenborough Blue Symbol was born. He got the nickname Percy after his famous grandfather. Percy was my first blue stud dog and was an excellent one. He can still be found behind may Farmarens dogs through the famous littermates INT NORD CH Farmarens Black Rin Tin Tin "Rin Tin" and our own INT S N CH Farmarens Black Rio Rhumba "Annie". Percy's litter brother INT NORD CH Edenborough Amber Lights "Amber" was imported to Sweden by Anna Carlbaum kennel Blandings.


From left to right; INT NORD U CH Farmarens Emily Blue BOB & INT NORD U CH Edenborough Blue Symbol BOS. Paul Stanton was judging at the club show in Piteå in 1982.


INT S N U CH Farmarens Black Rio Rhumba "Annie"
Mother and grandmother of several winnders.




INT NORD U CH Edenborough Blue Symbol "Percy"