History

Maine with Farmarens Feeling Woopi, Farmarens Fran Fine and Farmarens Fancy That.
Photo: Litbild, Camilla Karlsson

Breeder of Bearded Collie since 1965 

Breeder of Norwich Terrier since 1986


Holder of "Hamiltonplaketten", the Swedish Kennelclub's plaque for meritorious breeding 1985

Rewarded with the Swedish Bearded Collie Club's breeders plaque 1994


2013 is 50 years ago since the kennel name Farmarens was registered by the FCI and the first litter at Farmarens was born.

My first dog was a cross between smooth and wirehaired foxterrier, who looked very much like the Jack Russels we see today. His name was Pricken, and the price for buying him was 10 kg seed. I had wanted a dog for some time, and the reason that I finally got this one, was that my father was very fond of his mother Sickan. "An intelligent dog!" as he described her. One of the things she did was to keep the chickens away from the garden.

Pricken was born in 1941, and he followed me everywhere. He was very tragically killed one day when we were out riding, being run over by a car. Here wasn't much traffic back then, but the accident happened just the same.
My second dog was a boxer called Kajsa Kavat. Kajsa was the dog that got me interested in breeding. She gave birth to our first litter of puppies the 14th of May 1958. Her whelping was very dramatical, and there were very few vets around at the time, which meant me and my husband Sigvard had to go all the way to the animal hospital Albano in Stockholm, which was a 200 km drive!

The puppies were delivered with a caesarean – four dog puppies. My breeding career could have started better! Two of the puppies were alive, a white one called Cesar and a black called Max. Black and white, two colours still not allowed in the breed. Ironically enough, both the dead ones were brindle. The father of the puppies was one of the great winners at the time, Ch Siggesunds Argo.


Max
Photo:Sigvard Olsson

Maine & Max 1958
Photo: Sigvard Olsson
I did not continue as a breeder of boxers, of obvious reasons. Kajsa was the first of a lot of dogs that I took over from their first owners. After Kajsa and Max I got Snobbi, a Poodle, then the Airedalterrier Unnesta Raggi, then the Old English Sheepdog Choopi.
That the OES came in to my life was thanks to good luck and good friends! When I got Kajsa (the reason that I took her was that the owners thought it was too much work having a dog) the people I got her from also had an OES. I didn't think much about it, I was perfectly happy having Kajsa, but I knew it was a very unusual breed, there were only an handful of OES in Sweden.
Choopi was imported from Holland, and was famous in the village for always running around everywhere – without his owners!
When at the age of five, he was still running around everywhere, the owners decided that something had to be done. They asked me if I wanted to take him. Yes. I wanted – but my husband thought that three dogs in the family was too many – if only he had known how many there would be, one day.....
1958 came Reuuwijks Cupid "Choopi" to the house, with his coat totally cut off. He loved being around the farm, and never again ran away. From his days in Holland he had 2 CCs and a CACIB, but his owners in Sweden had never entered him for any show. Sigvard and I decided to try our luck at a show, but we had no idea what a good dog we now were the owners of.

Choopi became the first International Champion in Scandinavia! He also became the father and grandfather of a number of very successfull dogs, such as Ch Unnesta Pim, that was owned by Caj Håkansson, kennel Bahlambs. When Caj was working for Joe Braddon, kennel Of Ide in England, he was able to help me importing International and Nordic Champion Amberford Hygd "Lucie".

What a gift he was, Choopi! He was the one that really developed my interest for dogs and breeding dogs, especially the herding breeds. This is something I have never regret.



CH Reeuwijks Cupid
born 18 november 1953
Farmarens Raggedy Rascal


Farmarens Bring On the Clown

Lucie was the foundation of a very successful line. Her daugher, International and Nordic Champion Farmarens Samatha was a groupwinner. Her son, International and Nordic champion Farmarens Angus "Luns" was a topwinner 1976 and 1977, among other wins he was BIS at Kennel Club shows. Then there was Samanhta's daughter, International and Nordic Champion Farmarens Raggedy Rascal and Rascals very successful daughter, International and Nordic Champion Farmarens Bring On The Clown "Clownie".

Clownie won a lot during the 80's. One of her more memoable wins was when she was BOB of 83 OES at a Club show in 1985 under Jill Bennet, kennel Pelajilo.


Farmarens Angus

Farmarens Wery Well Winston came from the same family, had Angus and Rascal as grandmother and grandfather. His debut in the show ring was April 17th 1988, when he won CC, BOB, Group-1 and BIS at the SSD (club for Toys and Companion dogs) show in Skellefteå. Finnish Ritva Raita judged him in the breed and the group, BIS was judged by KG Fredriksson.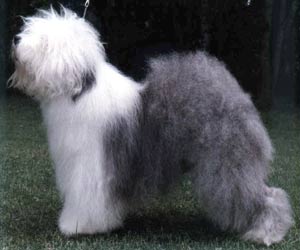 Farmarens Wey Well Winston
Photo: Stig Karlsson
The father of Clownie and Winston was our own INT NORD U CH Unnesta Rival, who had his best show-years in 1983 and 1984. Rival's mother was the wonderful INT NORD U CH Unnesta Lapaloma, and his grandfather och his fathers side was INT NORD U CH Farmarens Angus.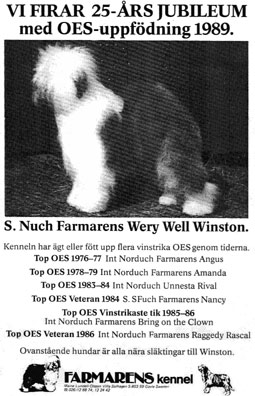 CH Farmarens Jasper Of Spirit. 18 months.

The last generation at Farmaren's kennel in this lovely and successful family was International Sw and Nor Champion Farmarens Jasper Of Spirit, who was one of three champions in his litter.


Farmarens N-litter born 1968
e:INT NORD U CH Teddy Bear Bobbo
u:INT NORD U CH Amberford Hygd
My daughters Ulrica to the right and Charlott in the middle.
Photo:Per Löfgren

Cynthia was born in Farmarens first OES litter and became the kennelns first Champion in the breed. Eventually it became 21 bred champions. The first OES litter was born 4 mars 1964 and the last 9 september 1991.

Not so long after that Choopi made his entrance into our lives, I had a call from Carin Slättne, kennel Slättängs. Carin was going to have a hip-operation, and was going to have a hard time taking care of her two Tibetan Terriers. Since she knew I was used to taking care of breeds that requires a lot of grooming, and she considered the Tibetan Terrier being a breed suitable for me, she asked me if I wanted to have her two bitches. After some days of thinking I called Carin and said I accepted her offer, and a new breed came into my life through mother and daughter, Slättängs Appollonia and Slättängs Godivia.


INT NORD U CH Farmarens Cynthia with Ulrica & Charlott

Slättängs Apollonia with her first litterborn at kennel Farmarens 1963 and daughter Slättängs Godivia

The first litter with the prefix Farmarens was registered in 1963. The mother was Int Ch Slättängs Apollonia and the father Tsang-Tong Of Lamleh. Later the same year Int Ch Slättängs Godivia had her first litter, with the same stud-dog.

It was very hard to find suitable stud-dogs within reasonable distance. In 1964 Carin Slättne told me about a dog in Finland CH Dordsche Vom Gaurisankar, a German import. We started planning how to get Godivia to Finland, by the time a big project and adventure, not at all as easy as today. .
By co-incidence, friends of ours were going over to Finland to visit some relatives, and they could bring Godivia. She came home mated and full of lice… later that year she gave birth to IntCh and NordCh Farmarens Echo.

As time went by, I felt I wasn't going anywhere in my breeding program. Tibetan Terriers were very rare in the 60's and the possibility of finding dogs for stud were limited. Due to this, my last Tibetan Terrier puppies were born in 1965. Looking back, I think I was to early with the breed. Back then there were too few breeders, but I am still very interested in the breed, and I do follow what's happening.


CH Farmarens Echo 1966
Foto: Andreas
Altogether, I bred three champions of the breed. Our own Echo and the two black bitches S U CH Farmarens Ayala, (owned by kennel Krysants) and S U CH Farmarens Bianca. After the Tibetan Terriers, I was looking for a new breed. I wanted a smooth-haired dog, and I wouldn't mind a terrier. The choice finally was a Manchester Terrier. I built my breeding on dogs from Kirkby and Eaglespur kennels, and the first litter was born September 29th, 1971. Their mother was IntCh NordCh Kirkby Superan "Susie" and the father IntCh NordCh Eaglespur Merryman, owned by Vivi Rey in Märsta.
The most successful dogs from this combination were NordChampion Farmarens Black Super Flash, SwCh and FinCh Farmarens Black Rodney and our own IntCh NordCh Farmarens Black Magic. The breed differed a lot in type, and it was very hard to breed a homogenic litter. Also with this breed it was hard to find stud dogs within the country, meaning that new dogs constantly had to be imported from England. My last litter was born June 18th 1978.
All in all, nine Manchester Terriers from my breeding became champions.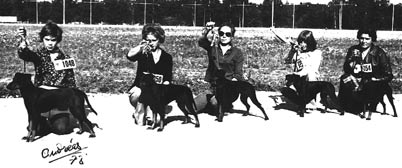 Breeder Group Manchester Terrier 1973 from left to right; Farmarens Black Magic Int Nord U CH,
Farmarens Black Super Flash Nord U CH, Farmarens Batsheba In Black N U CH,
Farmarens Cascade In Black N U CH, Farmarens Brilliance 1 cert.
Please read more about our breeds today;

Bearded Collie

Photo of INTUCH, SUCH, FINUCH, NUCH, DKUCH, SV-92, SV-93,
FINV-97, NV-98 Farmarens Evening Eureka "Ella"

Norwichterrier

Photo of INTUCH, SUCH, NUCH, DKUCH, FINUCH, NV-97
Cobby's Foolish Kit Nubbles